Life is busy. It seems there aren't enough hours in the day to maneuver, better yet cram, everything in that is screaming for a slot on the docket.  And no matter who you are, no matter what you do, we all have the same amount of time allotted to us each day, 24 hours or 1,440 minutes or 86,400 seconds.  From the richest to the poorest, the CEO to the mailroom clerk we can't buy, barter, beg or steal more.  Each minute is an irretrievable gif t, a non-transferable slice of eternity and once it is gone it's gone forever.
            Each minute brings us f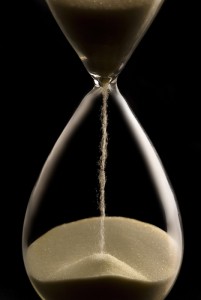 ace to face with a choice that must be made in the blink of an eye:  How will we spend…no invest, that moment?  Consider these statistics from U.S. News and World Report on the topic of how much time the average American will spend on the following activities in a lifetime.  We will spend six months sitting at stoplights, eight months opening junk mail, one year looking for misplaced objects, two years unsuccessfully returning phone calls, four years doing housework, five years waiting in line, and six years eating.  And most of these activities are not the kinds of things we hope to build our life upon.  So on top of these mundane chores we have the tug of war between spending time with family and friends, meeting work deadlines, attending our kid's soccer games and PTA meetings, enduring some form of exercise, and spending time on a hobby or two, and I'm sure you could add several pages to this list of things that vie for your time.  Oh yeah, and somewhere in there it's probably a good idea to pencil in an hour or two of sleep.
            But even on the best days as our head hits the pillow it is easy to find our minds racing to all the things we didn't get done and have to transfer to the 'to do list' for an already overloaded tomorrow leaving us restless and unable to get a sound nights sleep so we can attack the moments placed before us tomorrow.  The truth is time flies and if we are not careful we will look back on the moments of our life to find all we have is a bushel full of wasted opportunities. 
Jonathan Edwards, former President of Princeton College and great revival preacher of the 18th century, summed it up like this, "Every part of [time] is successively offered to us that we may choose whether we will make it our own or not.  But there is no delay: it will not wait upon us to see whether or not we will comply with the offer.  But if we refuse, it is immediately taken away and never offered more…If we have lived fifty, or sixty, or seventy years and have not improved our time, now it cannot be helped; it is eternally gone from us; all that we can do is to improve the little that remains." 
            Unfortunately it takes most of us far too long to realize the preciousness of time.  It is too little considered and too often lost in the hustle and bustle of this thing we call a rat race.  Our maturing view of time is well summed up in the following poem;
            When as a child I laughed and wept, time crept.
            When as a youth I dreamed and talked, time walked.
            When I became a full grown man, time ran.
            And later as I older grew, time flew.
            Soon I shall find while traveling on, time gone.
            We can accumulate more money and things.  We can work our way up the proverbial corporate ladder to greater power and influence.  We can commit to an endless pursuit of pleasure, but there is no secret to accumulating, working, or pursuing more time.  There has been no successful attempt at creating a time machine or a remote control for the universe.  So rather than bemoaning the futile pursuit of wishing there was more time in the day, which I find myself doing far too often, let's recognize that each moment is given only once and when it is given it is pregnant with opportunity which will be squandered or embraced.  With that in mind how would your "squander to embrace ratio" change if you knew there was just a handful of moments left to your fleeting sojourn here on earth?  Why wait to make those changes and find yourself with nothing more than a handful of regrets and no time left.  As they say, "There is no time like the present."