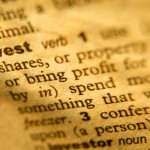 I'm starting to think a lot more about investing than I did a few years ago.  For one thing I'm older and realizing that someday I may retire, but in order to do that I've got to have something stashed away somewhere.  I also have a family now and I am thinking about their security if something were to happen to me.  Needless to say I am trying to learn a little more about the investment world and put together a portfolio that will reap healthy dividends which will give me and my family a sense of long term financial security.
            I've had different people share with me differing opinions concerning where my greatest investment potential lies.  There have been those who have strongly recommended real estate and others the acquisition of land, still others have proposed putting my investments in gold, and others have thrown the word 'diversify' around quite a bit.  Though all of these have their benefits and, of course subsequent draw backs, I have found an investment with far greater potential than any of these.  It's an investment that promises multiplying yield not only within my lifetime but in the lifetimes of my children and my children's children.  Now that is an investment opportunity that I am ready to jump into with both feet. 
            This is an investment that is not primarily financial and it is not focused on the financial security of my family.  It is an investment that capitalizes on the greatest investment potential we have as human beings, but it is not real estate or gold or diversification.  The greatest investment we can make is in the spiritual and moral development of the next generation.  This is an investment potential given us by the God of the universe, that if heeded can reap infinitely high yield but if ignored has devastating results.  It is an investment strategy that God lays out for us in what is known to orthodox Jews as the 'Shema' which is found in the fifth book of the Old Testament, Deuteronomy.  There God admonishes in chapter six verses two and three, "…you may fear the Lord your God, you and your son and your son's son, by keeping all his statutes and his commandments, which I command you, all the days of your life, and ?that your days may be long. Hear therefore, O Israel, and be careful to do them, that it may go well with you, and that you may multiply greatly, as the Lord, the God of your fathers, has promised you, in a land flowing with milk and honey."  The principles and promises found within this investment strategy still hold true for us today.
            I recently came across some statistics that showed the estimated percentage of each generation that are considered evangelical Christians.  That would be individuals who adhere to such beliefs as Jesus deity, His death on the cross and subsequent resurrection, and the resulting salvation that comes to mankind only as a result of His death and resurrection by grace through faith.  In each of the last four generations there has been a steady decline in the percentages.  In the generation that went through the great Depression it is estimated that 65% professed to be evangelical Christians, but the estimation for this generation that is currently filling our school halls is a mere 4%.  In just three generations things have taken quite a nose dive.
            Maybe it's time we as parents and families take more time thinking about the moral and spiritual development of our children than their financial security.  We and our children can have all the money in the world but Jesus put it best when He said, "What does it profit a man if he gains the whole world but forfeits his soul?" (Matthew 16:26).  There is only one investment on the planet that promises eternal yield and not just temporal.  You may have heard it said, "you can't take it with you," which is a statement that rings true for every investment you make except the one which is in the spiritual and moral development of the next generation.  Do you have a living and abundant relationship with the God of the universe through the shed blood of Jesus Christ?  Are you passing it on to your children?  I assure you it's an investment strategy you will never regret adding to your portfolio.