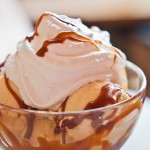 I have a sweet tooth for ice cream. All it takes is a stroll through the ice cream aisle at the grocery store or a Dairy Queen commercial and all my defenses collapse. But several years ago I had a horrible ice cream experience that nearly changed my love for the arctic dairy treat forever.
Some friends of mine knew of my love for the cool creamy stuff and thought it would be funny to play a practical joke on me. They built the most beautiful caramel sundae the world has ever seen. OK, so that's a little of an exaggeration, but you must picture in your mind a pretty doggone good lookin' sundae. Just one look at the finished product made my glands jump into overdrive. So with spoon in hand, bib around my neck and my friends gathered round, I prepared myself for my journey to ice cream heaven.
I dug my spoon into the creamy caramel creation, pulled out the biggest scoop I thought my mouth could handle and thrust the spoonful into my mouth. I was instantly thrown into a state of confusion. Instead of finding myself on the Rocky Road to heaven, I was on a Mississippi Mudslide of misery. My taste-buds were expecting the cool, sweet, creamy flavors of an ice cream sundae but instead they were greeted with the warm, bland, pastiness of mashed potatoes and gravy.
I have nothing against mashed potatoes and gravy, but when one is expecting a caramel sundae I don't know that anything could taste worse. Mashed potatoes and gravy may be able to be doctored to look like a real sundae but with the first taste there is no denying the combination is a counterfeit – just a poor reproduction of the real thing.
The joke, for my friends, was in the fact that they knew I was going to recognize the counterfeit just a little too late. Imagine the shock that would have ensued if, upon that first bite, I had really believed I was eating a caramel sundae and continued digging in, commenting on how cool and sweet and creamy the sundae was. The joke would have still been on me, but my friends may have brought my sanity, or at least my definition of a caramel ice cream sundae, into question.
Most of us would agree that humanity's general orientation is toward ourselves. Whether it is conversations between parents and children or the advertising industry and the talk show circuit the connecting mantra is something akin to, "You're worth it," or "You deserve it." Peruse the aisles of any bookstore and notice the growing self-help section. We want to feel good about ourselves and unlock our inner power, thereby contributing to the betterment of this giant blueberry. Then hopefully, we'll be remembered for a generation or two as a good person. We even go so far as to scientifically prove that we are justified in focusing on ourselves because of the evolutionary processes that have put us atop the food chain. We are a people who are generally oriented toward ourselves.
Yet in the end all of this sounds about as pathetic as calling mashed potatoes and gravy a caramel sundae. And the truth is, it doesn't settle all that well in our souls. We know this isn't the real deal, but we've done our best to convince ourselves and everyone around us that it is as real as it's going to get. And as long as the propaganda keeps playing in our ears, well, then it must be true. All the while we wonder why, if this is as real as it gets, all the pieces just don't seem to fit together to make much sense. From marriages, to parenting, to worldwide peace it feels like we're trying to fit square pegs in round holes.
Perhaps a shift in orientation is in order. Perhaps if we oriented ourselves toward God rather than ourselves we may find the pieces fitting together like they are meant to, not necessarily like we think they should, but like they are supposed to. And then suddenly when we sit down for that caramel sundae and put the first scoop in our mouth we would actually feel the rush of an arctic treat rather than some sculpted potato substitute. You can keep pretending the spuds are the real thing, me, I'm gonna get back to the real thing.